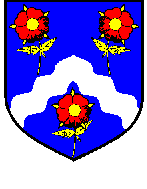 The Number of Gillespies in Ireland.
The name is prevalent in the ancient episcopal province of Armagh, which covered part of Scotland also. Like the Kennedy name, the Gillespie patronymic sits comfortably astride the water linking Belfast to Glasgow.
It is intriguing to note that, in Northern Ireland, the Gillespie name is more associated with the Presbyterianism of Ulster than with the Catholicism of the Republic, to an extent that could lend credence to the idea of a purely Scots origin. If this were so, then the Gillespie families resident in the Province may well be themselves of Scots extraction, many of their ancestors having followed William of Orange's Scottish army into battle against his Catholic Stewart father-in-law, James II.
The "Irish Ancestors" website gives the following statistics for the number of Gillespie households per Irish county in the Primary Valuation property survey of 1848-1864. The 5 counties; Donegal, Tyrone, Armagh, Down and Antrim had the most residents of the name, representing 75% of the Gillespie population in Ireland. Gillespies therefore inhabited at that time the 5 geographically northern-most counties of Ireland.
| | | |
| --- | --- | --- |
| Antrim | 59 | 63 |
Assuming an average of 3 persons of the Gillespie name per household at the time of the survey, the above 776 households would have represented about 2300 individuals between 1848 and 1864. Compared with the 1881 Scots census, the number of Gillespies in late 19th-century Ireland was thus probably no more than about two thirds of the number in Scotland.
Note: these statistics were taken shortly after the famine, which had led to significant Irish emigration
Note: the above arms are commonly held to be Irish Gillespie arms, however the identity of the armiger is unknown.