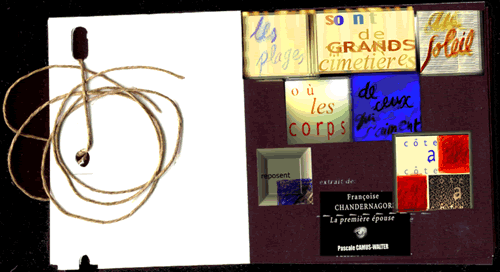 Le dernier livre de Françoise CHANDERNAGOR, "La première épouse", donne un portrait terrifiant de ce que peut être la douleur d'une femme en état de déreliction. Pourtant, ce qui est resté gravé dans ma mémoire, sont, comme pour les souvenirs de la psychanalyse et du rêve, les passages anecdotiques sur lesquels se greffe le contenu insoutenable de la douleur. Ainsi, la description d'un répondeur téléphonique dans lequel s'engluent comme des mouches les correspondants, ou, comme ici, quelques mots sur une plage, qui n'est en en fait qu'un grand cimetière.
Cliquer sur chaque vue pour voir apparaître l'image suivante
The last book of Françoise CHANDERNAGOR, "The first wife", provides a terrific portrait of what can be the pain of a woman in a state of dereliction. Nevertheless, what remained engraved in my memory, are, like the memories in the analysis and in the dream, these very anecdotic moments on which stucks the unbearable content of the pain. Thus, the description of an answering machine, on which the callers remain scotched like in the glue, or, like here, some words about the beach, which is nothing more than a great cemetery.
Click on each view to see the next picture