De nos jours, tout le monde voyage. Mais comment garder de ces voyages une trace plus personnelle que des photographies et des souvenirs?
J'ai eu l'idée de créer ce petit "passeport artistique" pour des amis qui entreprenaient un long voyage autour de l'Océan Indien. Je voulais qu'il leur reste une trace concrète de leur périple, un objet qui serait imprégné de l'air de chaque pays, qui aurait été touché par les mains de tous ceux qui les auraient rencontrés. Je voulais aussi en faire un objet précieux, qui, même le voyage fini, même les soleils des tropiques éteints depuis des années, garde encore en lui cette lumière intérieure que les paysages traversés et les amis étrangers rencontrés nous laissent.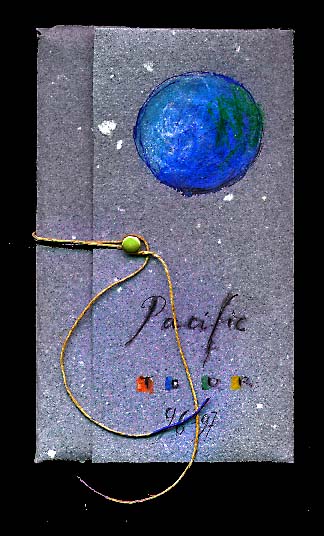 Pour voir les détails d' un Artpass bien rempli et continuer le voyage avec nous, cliquez ci-contre:
Pour réaliser votre propre Artpass, lisez les explications ci-dessous.
To see the details of the completed Artpass and continue the tour with us, click beneath:
To realize your own pass, read the texte below.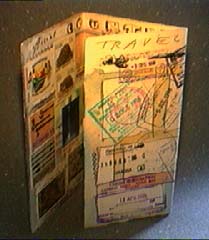 Today, everybody travels all around the world. But how to keep from these trips a trace that would be more personal than photographies or souvenirs?
I got the idea of creating this little "artpasseport" for friends that were traveling around the Indian Ocean during a whole year. I wanted them to keep a concrete trace of their tour, an object which would be soaked with the air of each country, which would be touched by the hands of all people they could meet during their journey. I also wanted to make of this artpass a precious object that, even the trip ended and all the suns of the Tropics extinguished since years, would still keep in it that very inner light that the crossed countries and the met foreign friends let to them.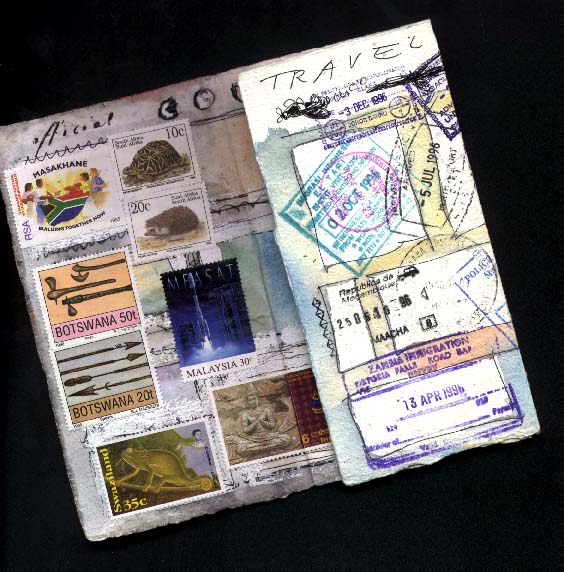 Pour réaliser votre propre passeport artistique, c'est très simple. Prenez une petite feuille de très bon papier aquarelle (environ 20x30cm). Pliez la en trois, la première page rabattue sur les deux autres. Dessinez sur la couverture votre nom et votre emblème. Sur la partie gauche du dépliant, dessinez des cases. C'est là que vous ferez apposer un tampon dans chaque pays que vous visiterez.
Do you want to realize a similar artpass for you? It's extremely easy. Just take a sheet of excellent watercolour paper (about 20x30cm). Fold it in three, with one side overlapping the others. Draw on the cover your name and your logo. Draw also some squares at the left side of the folder. Here you will let put an official stamp in each country you visit.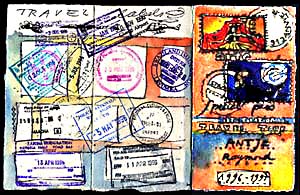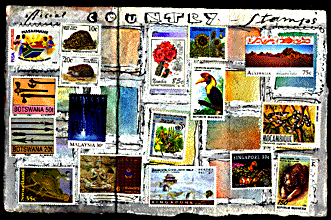 Peignez ensuite des carrés de couleurs sur l'intérieur du dépliant
(il a toute la longueur de la feuille). C'est ici que vous collerez
les timbres de chaque pays que vous visiterez.
Paint now some colored squares on the inner side of the pass
(it has the whole size of the sheet). Here you will stick poststamps
of each country you visit.
---